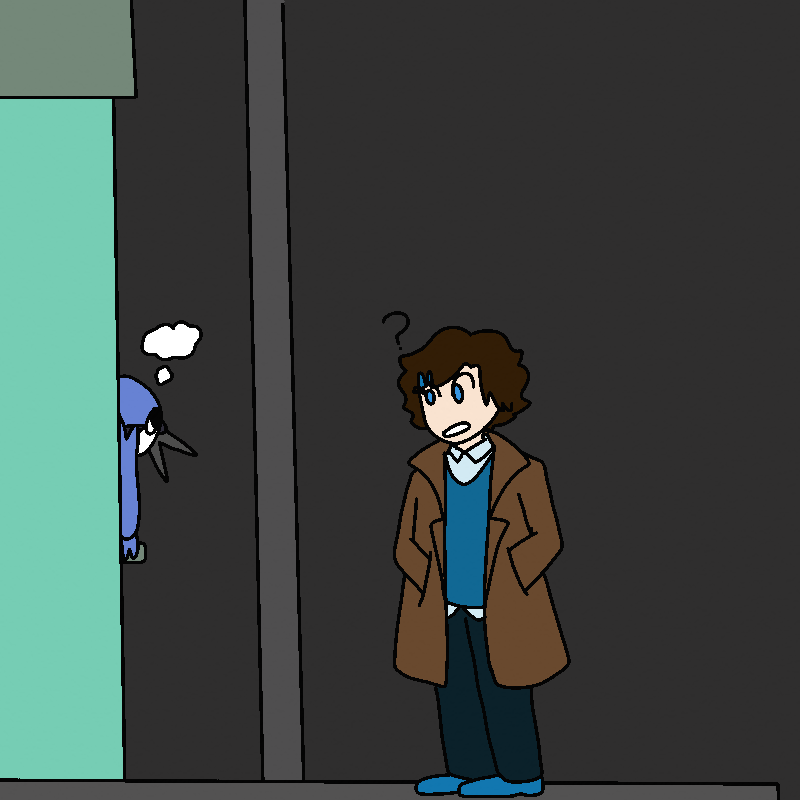 ROY: though i did want to ask...
ROY: you mentioned i could like, fly or something?
MALACHI: What?
MALACHI: Oh. That. Nah, that was just speculation.
ROY: speculation?
MALACHI: Like, the people who made this game usually have super... unique powers.
MALACHI: 'Cuz of their religion or something.
MALACHI: They all represent some concept or other and get powers like that. Since you humans didn't have powers, though, you just like... got assigned something by the game.
MALACHI: All us villagers know what you're supposed to rep, though we don't know how that translates to powers.
ROY: ...but why guess that i could fly just because i'm apparently a freedom guy?
MALACHI: I dunno. It just made sense.
MALACHI: Flight is free, right?
ROY: huh. i guess?
November 09, 2022
1000 pages! -Beckett
November 02, 2022
We're back in business. Additionally: I've released that Ghost House project! If you want to view my spooky Halloween adventure, you can find it here. All PROLEGOMENON news is being hosted on this blog now, too. So keep your eye on that instead, if you're looking for the latest PROLEGOMENON news! -Beckett
August 16, 2022
Hey all! A couple of things here. First, I've finished my mission in fixing up all the older pages on this website. If you find any pages to be broken, missing images, or having typos, you can always shoot me an ask on my Tumblr (linked in my Carrd, which, as always, is linked at the top of every page). Secondly, the update schedule for this webcomic may or may not change from its usual Wednesday and Saturday at 7 PM EST. I know, scary! If it does, I'll be sure to announce this at least two updates before any schedule change, both down in the news section here and in the official Discord server and Tumblr blog. Thanks for the support! -Beckett
August 10, 2022
Still chipping away at touching up the site's older pages, though I'm getting close to complete. If you find any errors or issues, you can always contact me on my various social medias available on my Carrd. Thanks for the support and love! -Beckett
July 30, 2022
Skipped the last update right after apologizing for missing so many! Sorry folks. I promise PROLEGOMENON is my priority creatively at the moment, at least until I start crunching myself for Ghost House. -Beckett
July 23, 2022
Sorry for the lack of updates lately. In the meantime, though, I released another project! You can look it over right here. Just a simple little thing, but I hope it makes up for the lack of PROLEGOMENON. -Beckett
July 02, 2022
We've hit 100,000 views on the website! Most of those are probably me making sure all the code and links work though... but it's still a pretty neat milestone. Thanks a lot! Another bit of news: I'll be releasing another, semi-related creative project on the 10th of this month, so keep an eye on my various social medias for that news. I'm still working on cleaning up the site and updating old pages, so if you go in for a reread... sorry for how messy it may be right now. I promise I'm chipping away at it! That's all for right now. Thanks again for the support and love! -Beckett